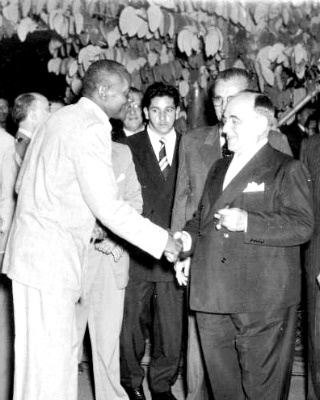 Manuel dos Reis Machado or
Mesta Bimba
as he was better known was born on 23 November, 1900 in Salvador, in the home country of capoeira, Brazil.
The youngest of 25 children, his first job was as a carpenter on the docks where he developed his physical strength; by the time he was 18, he could carry 120 kg.
He learned traditional capoeira (known as Angola) from a Mestre called Betinho and went on to teach it for ten years before he developed his own style, which he called
Regional
.
Regional Capoeira's Code of Ethics
Previously, it was said that every capoeirista had his own style but Mestre Bimba brought in a training system that consolidated the techniques and refined the art. He also recognised that like other world martial arts, capoeira needed a code of ethics before its reputation could be restored and it could get accepted by people outside the criminal underworld as a part of Brazilian heritage.
This honour code included rules such as;
• No smoking or drinking alcohol.
• Skills should only be demonstrated inside the roda, allowing for the element of surprise should a real fight situation occur. (The roda is a circle formed by people, inside which, practice fights take place)
• When training, the capoeira fighter should focus on the task at hand.
• Talking in the roda should be kept to a minimum
• Other 'players' should be watched in a bid to learn more. (In capoeira the term 'player' is deemed correct, unlike other martial arts).
• The ginga (the fundamental move in capoeira shown being taught by Bimba below) and other basic capoeira moves should be practiced as often as possible.
• Do not be afraid to get close to your fighting opponent. The more you do this, the more you will learn.
• The capoeira fighter's body should be kept relaxed.
• It is better to be defeated in the roda than in a real fight situation.

Other Developments Made by Mestre Bimba
Practitioners of the Mestre's Regional system were (and still are) also expected to be presentable at all times and wear clean, white uniforms with coloured scarfs that indicate rank. He also included choreographed sets of moves and introduced flips, throws and sweeps to the fighting system, giving it its characteristic flamboyancy that sets it apart from the other main type of capoeira of Brazil, the Angola style.
During his early years, being a capoeira fighter was outlawed which made many of the best martial arts experts criminals. Nonetheless, Bimba was known to openly learn and teach capoeira and by around 1928, he was well respected enough to be asked to demonstrate it in front of the President of Brazil, Getulio Vargas (pictured together above).
After witnessing Mestre Bimba's demonstration, the President was so impressed he made one of the most important decisions in capoeira history and authorized the opening of the first legal capoeira school in 1932 which Bimba named
Centro de Cultura Fisica Regional
(CCFR).
It was a place where people from all walks of life could go and learn the martial art and this act at once gave capoeira an air of respectability in the public eye and changed its image for ever.
After a demonstration of capoeira in 1974, the mestre was taken to a hospital in Goiania after complaining he felt sick. Soon after, at the age of 74, one of the most significant men in capoeira history died of a brain haemorrhage. His legacy is still felt strongly today in the art and Mestre Bimba is un-arguably one of the most influential people in the history of the martial arts in Brazil.
Further Reading
Interview with Mestre Bimba
. [Internet]. 1973. Originally published in the Goiânia Gazette and reproduced by Capoeira Connection. Available from:
http://capoeira-connection.com/capoeira/2012/01/i-challenged-all-the-tough-guys-mestre-bimba-1973/
[Accessed October 24, 2013].
O Malandro and Crime
. [Internet]. 2012. Rensselaer Polytechnic Institute. Available from: http://capoeira.union.rpi.edu/history.php?chapter=Malandro [Accessed October 24, 2013].
Protetor, B. [Internet]. 2010.
About Capoeira – History
. Origens do Brasil. Available from: http://www.origensdobrasil.co.uk/history.php [Accessed October 24, 2013].
The Owner of the Game: Mestre Bimba
. [Internet]. 2002. University of Florida. Available from:
http://iml.jou.ufl.edu/projects/fall02/oliveira/regional.html
[Accessed October 24, 2013].