Bare-Knuckle Boxing Champions of the 19th Century
Talk the Talk
As there was little official unification during this period of boxing history, there was often disagreement over who the champion was which makes a definitive list impossible.
That said, these fighters are generally accepted by sports historians to have been the bare-knuckle champions of the nineteenth century.
Walk the Walk
Prior to the introduction of the famous Queensbury Rules in 1867, it can be argued that pugilism was a much more dangerous sport.
The number of rounds in a contest was limitless and they would continue until someone was knocked down or unable to fight on.
Wrestling moves were common during this era as was holding and while boxing gloves were used for training purposes, most bouts were bare-knuckle boxing contests.
Boxing History Facts
Jem Mace was a famous bare-knuckle boxer and is regarded as one of the best of all time as well as being an important ambassador for the sport.
He used his worldwide fame to help gain acceptance for the new Queensbury Rules, which emphasised the wellbeing of the fighters.
He also pioneered new methods of crowd control at fights, limiting the outbreak of riots that were commonplace during the period.
He championed new payment methods for fighters, putting an end to the winner takes all systems and allowing for both contestants to get paid for the work they put in.
Perhaps the most important legacy of Jem Mace's career was his stance on equality.
He was one of the few people in his time fighting for the rights of black boxers and it was largely down to his efforts that there were opportunities for non-whites in boxing history long before most other sports.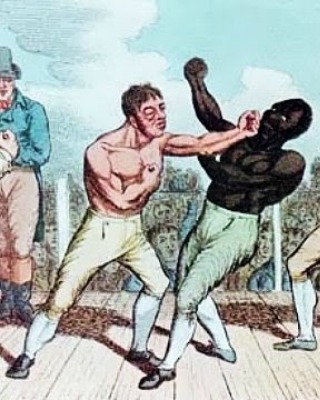 Jem Belcher (1800 – 1803)
– The first bare-knuckle champion of the nineteenth century was a talented young fighter called Jem Belcher.
Grandson of the infamous
Jack Slack of the previous century
, Belcher held the title for three years before being forced to retire after losing sight in one eye playing rackets.
Henry 'Hen' Pearce (1804 – 1806)
– Hen Pearce was known as the
Game Chicken
as a result of both his name and his legendary courage that was likened to that of a fighting cock in the pit.
He was forced to retire early when a turbulent marriage forced him to develop a problem with alcohol.
John Gully (1807 – 1808) – John Gully lost to Hen Pearce after six rounds after the latter bought the former out of debtor's jail so that the two could fight. Despite losing, Gully was classed as the champion after Pearce's retirement.
Tom Cribb (1809 – 1822) – Seen by many as the greatest fighter of his time, Tom Cribb held the title for several years before retiring to run a London pub. His two most famous bare-knuckle boxing matches were against Tom Molineaux, (depicted above in their second fight in 1811). Molineaux was an ex-slave and formidable fighter who was the first American to challenge for the title, though he was defeated by Cribb on both occasions.
Tom Spring (1823 – 1824) – Tom Spring was a student of Tom Cribb and retired after one year as the bare-knuckle boxing champion, despite having several victories (and one loss) in that time.
Tom Cannon (1824 – 1825) – Cannon claimed the vacant title after Tom Spring's retirement and lost it a year later in an epic showdown with Jem Ward.
Jem Ward (1825 – 1832) – Jem The Black Diamond Ward lost the title to Peter Crawley in 1827, who retired immediately after the fight, allowing Ward to retain his status as bare-knuckle champion. He then toured the USA for a while before retiring in 1832.
James Burke (1833 – 1839) – Known for his devastating punch and nicknamed the Deaf 'un because he was hearing impaired, James Burke fought Simon Ward for the vacant title, who died because of injuries sustained during their fight.
William Thompson (1839 – 1840)
– Known as
Bendigo
, Thompson was one of
boxing history's more shady characters
and was a gangster whose friends would often intimidate his opponents. Soon after beating James Burke, he retired leaving the former champion and Ben Caunt both claiming to be the world boxing champion.
Nick Ward (1841) – The younger brother of former champion Jem Ward, Nick fought both of the main contenders, James Burke and Ben Caunt, beating both men on a foul decision to become the tenth undisputed bare-knuckle boxing champion of the nineteenth century.
Ben Caunt (1841 – 1845) – Ben Caunt beat Nick Ward in a rematch to gain the title and would go on to lose it to former champion William Thompson, who beat him for the third time to regain the title. After a gruelling ninety-three rounds, Caunt was disqualified for going down without getting hit. Afterwards, he retired from the ring.
William Thompson (1845 – 1850) – Though he held the title for five years after coming out of retirement, Bendigo would only defend it once after his opponent, Tom Paddock, was disqualified for hitting him when he was down. After his retirement he became an evangelist preacher and had the distinction of having a racehorse named after him, a town in Australia also took his name and he was the subject of a poem by Sir Arthur Conan Doyle.
William Perry (1850 – 1851) – Known as the Tipton Slasher, Perry won the vacant title by beating Tom Paddock and lost it a year later to Harry Broome; both fights were decided on a foul.
Harry Broom (1851 – 1856) – Broome forfeited the bare-knuckle boxing title because he refused to give a rematch to William Parry, whom he had beaten on a foul.
Tom Paddock (1856 – 1858) – After losing title bids to William Bendigo Thompson and William Parry, Paddock finally achieved his dream and became the bare-knuckle champion in 1856.
Tom Sayers (1858 – 1860) – Gained the title by beating the veteran Tom Paddock. Sayers weighed in at only 11st so was used to beating much heavier men than himself. After a gruelling draw with American John C Heenan in which he fought many of the forty-two rounds with a badly injured arm, Sayers retired from boxing.
Sam Hurst (1860 – 1861) – Sam Hurst was another fighter to beat Tom Paddock in a title fight, however, he lost it on his first defence in which he fought against Jem Mace.
Jem Mace (1861 – 1862) – One of the most famous bare-knuckle boxers of the nineteenth century, Jem Mace toured the world with his boxing Booth, taking on all comers. He lost his title to Tom King after initially beating him in their first contest.
Tom King (1862 – 1863) – Gained the title after twenty-one rounds against Jem Mace, and then he became the second champion to retire after beating John C Heenan after a hard-fought two-round battle.
Jem Mace (1866 – 1871)
– After originally gaining and losing the title as a bare-knuckle fighter, Mace made boxing history by becoming one of the first high-profile fighters to switch to using boxing gloves in the ring after the introduction of the
Queensbury Rules
. After his retirement, he continued to tour with his booth and went on to become a successful boxing promoter.
Boxing History Home
The history of boxing dates back in one form or another as far as civilisation itself with ancient Greek boxing even being a part of the early Olympic Games. Modern boxing rules have made the sport safer for the fighters and more entertaining for the crowds, resulting in pugilism becoming one of the most popular athletics events on the planet today.
Boxing in the Ancient World
Ancient boxing dates back to the Samarian culture and probably beyond and is known to have also been a part of the Egyptians and Minoan civilisations. It became an event in the ancient Olympic games in Greece in 688 BCE, and ancient Roman boxing was also practiced by athletes, gladiators and Roman soldiers.
Boxing in the 18th Century
Modern boxing history really began to develop into the sport known and loved today in the 18th century. Bare knuckled boxing contests began to be regulated and safety measures also began to be put in place. However, the period was also marred by controversy as it saw the first instances of corruption in the form of prize fighters taking payoffs and intentionally losing fights.
Post-Queensbury Rules Boxing Culture
With the introduction of the Queensbury Rules in 1867, boxing culture was dramatically changed. The safety of the boxers was much improved though bare-knuckle boxing was still popular and as brutal as ever. For black boxers however, things actually changed for the worse as it became increasingly difficult for many of them to reach their full potential as a result of institutional racism.
Sam Langford
Sam Langford, aka the Boston Tar Baby, was one of the greatest boxers never to be crowned world champion. Fighting in the early half of the twentieth century, he was a victim of the colour line in boxing and was not afforded a chance at the title because of the colour of his skin despite the fact that the champion at the time, Jack Johnson, was an African American.
Joe Louis
Joe Louis (The Brown Bomber) was an American boxer and widely considered to be one of the greatest world heavyweight champions of all time. He became an American hero when he defeated the German Max Schmeling, then later through his work promoting the war effort. Despite his considerable success, later in his career he would face massive debts due to unfair treatment by the taxman.
Little Known Facts About Muhammad Ali
Muhammad Ali was a three-time heavyweight boxing champion and is widely regarded as the greatest boxer of all time, as well as one of the most influential sportsmen of the 20th century. This selection of little-known facts about 'the Louisville Lip' show he led an interesting and varied life, both inside and outside the ring.
The Reign of Don King
Don King is an influential American boxing promoter who has staged some of the biggest fights in boxing history, increased the prize money earned by fighters and considerably raised public interest in the sport, all in his own charismatic and outspoken style. Despite this, King's career has been constantly marred by controversy leading to him being both loved and hated in the world of boxing.