What is Karate?
Karate is a self-defence system that combines fast, direct techniques with great power, generated through body mechanics.

Generally speaking, the aim of a karateka when forced to fight is to subdue an opponent with one decisive move.

Talk the Talk
Karate literally means Empty (Kara) Hand (Te), referring to the fact that the art is largely built around unarmed combat.

Originally it was called Chinese Hand but was changed by Gichin Funakoshi when he introduced the art to Japan.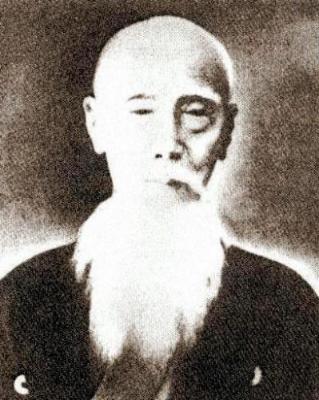 In its current form, karate is less than 200 years old however it has roots that date back thousands of years.
The art originated on the
island of Okinawa
and in its early form was heavily influenced by ancient Chinese martial arts, collectively known as
kung fu
.
The Beginnings of Karate History on Okinawa
The history of Okinawan Karate can be traced back to the late 17th century when a ban on weapons was imposed by the
samurai
rulers of Japan.
The exact evolution of karate history is lost due to the lack of information being written down which is unsurprising when taking into account the strict rules against subjects of the island learning martial arts.
This meant that all training by early masters such as Kanga Tode Sakugawa (pictured) and Sokon 'Bushi' Matsumura, had to be done in secret and as weapons could not be carried on the island, self-defence tended to revolve around empty handed techniques.
The earliest surviving written evidence of karate in Okinawa was a mention of the word Tode (the Okinawan name for the art) in the late 1700s. It was in reference to a visitor to the island from China named Kushanku who taught a form of kung fu and may have introduced the first version of the
Shotokan kata
kanku dai. Tode style blended with the martial arts already being cultivated on the island which was known as Te, meaning 'hand'.
Te was popular in three cities in particular, Shuri, Naha and Tamarai. Each city had its own way of doing the martial arts and modern day styles reflect this;
Shotokan
and
Shito-Ryu
are mostly influenced by the style from the city of Shuri, that is Shuri-te, and to a lesser extent Tamarai-te. Goju-ryu on the other hand is more influenced by Naha-te.
Karate History and its Development into a World Martial Art
At the turn of the 20th century,
Anko Itosu
gained permission to end the shroud of secrecy for those who wanted to learn martial arts and began teaching Te in Okinawan schools. This led to further expansion by one of Itosu's students, Sensei Gichin Funakoshi, who introduced the art to Japan in 1922.
Funakoshi made many modifications to the art to make it more accessible to the Japanese including changing the name and karate as we know it today was born. Towards the end of his life, Funakoshi was instrumental in forming the Japanese Karate Association (JKA) which set about making karate a world martial art by sending out its best instructors to teach it all over the globe.
Today, karate is practiced by millions of people right across the world and although the lines are often blurred between karate history facts and exagerations or legends, the contribution made by the old Okinawan masters and those that followed them should not be forgotten.
Further Reading
A Brief History of Karate-Do
. [Internet]. 2012. The University of Hawaii. Available from: http://www2.hawaii.edu/~uhkarate/history.html [Accessed 13 November, 2012].


Early Karate Origins
. [Internet]. 2012. The University of Columbia. Available from:
http://www.columbia.edu/cu/jka/history.html
[Accessed November 7, 2012].
History of Karate from Ancient Combat System to Modern Global Phenomenon.
[Internet]. 2012. Dynamic Karate. Available from:
http://www.dynamic-karate.com/history-of-karate.html
[Accessed November 7, 2012].
History of Shotokan Karate
. [Internet]. 2012. North-western University. Available from: http://groups.northwestern.edu/karate/history.html [Accessed November 7, 2012].
The History of Okinawan Karate
A look at the three regional styles that made up earliest forms of karate that were practiced on the island of Okinawa and how they developed into the styles that are popular all over the world today....
Read Article
The Life and Legends of Anko Itosu
Anko Itosu was a legendary martial artist and a pioneer in the development of karate. He popularised many aspects of the fighting system and helped increase the number of people who learn the martial art by teaching it in the schools.....
Read Article
The History of the Shotokan Kata – Part One
A rundown on the history of some of the kata in Shotokan karate, looking at where they originated and how they developed over the years. The list includes Kihon kata, the Heian kata, the Tekki group, Bassai Dai and Sho, Empi, Hangetsu, Kanku Sho and Dai, Jion, Ji'in and Jitte.....
Read Article
The History of the Shotokan Kata – Part Two
A rundown on the history of some of the more advanced kata in the Shotokan karate sylibus, looking at their origins and development over the years. The list includes Wankan, Gankaku, Meikyo, Chinte, Gojushiho Sho and Dai, Sochin, Nijushiho and Unsu.....
Read Article
Kenwa Mabuni – Founder of Shito-Ryu Karate
Kenwa Mabuni started life as a sickly child but transformed himself into a strong warrior through the practice of karate. By studying with a number of great masters, he was able to combine what he learned and develop one of the most popular styles of karate today, Shito-Ryu…..
Read More
Hienori Otsuka - Founder of Wado-Ryu Karate
By the age of 28, Hienori Otsuka was a renowned master at jujitsu before becoming a student of Gichin Funakoshi. He excelled at karate, quickly rising through the ranks to become an assistant instructor and helping to develop training techniques in Shotokan karate. Later, he broke away to form his own style of karate, Wado-Ryu......
Read Article
The Real Mr Miyagi
Sensei Chojun Miyagi was an Okinawan karate master who developed the style Goju Ryu. By learning martial arts from both China and his homeland, he was able to incorporate both internal and external techniques.....
Read Article
The Fighting Prowess of Mas Oyama
Sosai Masutatsu Oyama, commonly known as Mas Oyama was one of the best karate exponents of all time. He developing kyokushin karate after years of rigorous training and took on all comers in full contact fights, all of which he won.....
Read Article