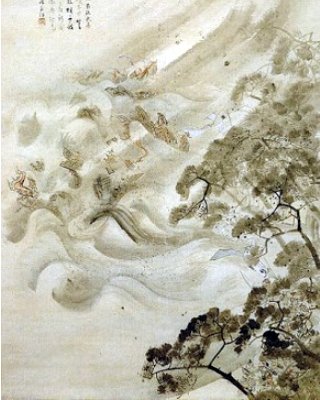 The famous Mongol Hordes were probably the most powerful force on earth by the mid-thirteenth century with a vast empire that stretched from the Danube to the Sea of Japan and from Northern Siberia to Cambodia.
It covered a landmass of an estimated 33 million square km which equates to 22% of the Earth's total land area and held sway over a population of over 100 million people.
In contrast, Japan was a small island that was divided by internal conflict with rival warlords fighting amongst themselves for land, privileges and resources.
The Imminent Invasion of the Mongol Hordes
In 1268 their leader, Kublai Kahn (the grandson of the nation's founder Genghis) sent his emissaries to Japan to demand acknowledgment of Mongol overlordship. This was denied by the Japanese but there was little immediate response to this defiance as the Kahn was engaged in conflict in China, in which he established a substantial foothold by 1273.
A year later, he turned his attention back to Japan and sent an army made up of Mongol, Chinese and Korean soldiers out to conquer the insolent samurai warriors. The Mongols were a far more powerful army than their enemies in several ways including man power, organisational skills and tactical awareness, something that the 18 year old Shikken (Regent), Tokimune Hojo recognised.
Even at that young age, he was an accomplished warrior and he realised how much danger the country was in so set about ending feuds between rival samurai clans in a bid to get them to unite against a common enemy.
The First Invasion of the Mongols

The first invasion came on November 19, 1274 when the Mongol Hordes landed at Hakata Bay and were met by Japanese warriors from the Kyushu Region. The samurai's preferred style of combat by the 13th century was to charge into battle and challenge opposing warriors to individual combat during pitch battles. However their foreign enemies used a different type of strategy.
They rode towards the samurai firing volleys of arrows laced with poison before retreating to stay out of range of their opponents. These waves of attacks continued relentlessly and were combined with the use of fire bombs that had probably been developed in China and burned not only the samurai warriors but also their mounts. The Japanese were forced to fall back into defensive formation but the Mongols could not build on their advantage and pursue any further due to a shortage of arrows.
They re-boarded their ships and left Hakata Bay with a decisive victory under their belts but as they did so, a storm came that destroyed a large part of their fleet with powerful winds, torrential rains and huge waves. They lost an estimated 13,000 men of a force that had been around 35,000 strong at the start of the fighting and 200 of their 900 ships were lost to the sea.
The Second Attack on Samurai Forces
For the next few years, Kublai concentrated on conquering Sothern China until in 1279, he sent more envoys to Japan demanding the leaders there pay homage to him. The reply was a resounding "no" and the messenger's heads were returned to the Khan, minus their bodies. Kublai was furious but waited until May 1281 to attempt to exact his revenge.
He raised an army of over 200,000 men and in preparation for the coming conflict, the Japanese constructed a wall 4.5 meters high and 40 km (25 miles) in length along the coast of Hakata Bay. They also assembled a large number of small boats that were designed specifically to fight in shallow waters in a bid to hamper their opponent's ability to land troops.
The fleet was to attack in two waves, the first of which set out with 900 ships carrying 40,000 men which was to be followed by a further 100,000 soldiers and 60,000 sailors who would be carried in 3,500 ships. The first wave reached Tsushima on the 9th June and despite strong resistance, managed to overcome samurai forces there.
They pushed on to Kyushu in Hakata Bay where the samurai managed to limited their ability to land troops to small numbers and employed night-time attacks on their ships.
The Divine Wind

These tactics frustrated the Mongols who returned to their ships only to realise soon after doing so that they had made the same mistake again by invading Japan during typhoon season. Another storm hit with even greater ferocity than the last and devastated both the first and the second waves of the fleet. These winds, so it was believed by the Japanese, were evidence of intervention from the gods and became known as
Kamikaze
or the
Divine Wind
.
Around 4,000 of their ships were sunk and around 100,000 men lost their lives, forcing the fleet to return to China. Once again the Mongol Hordes had been defeated by natural forces which ended any major attempt for them to become the overlords of the samurai warriors.
Further Reading
Cook, H. 1993.
Samurai – The Story of a Warrior Tradition
. London. Blandford Press.
Gracie, C. [Internet]. 2012.
Kublai Khan: China's Favourite Barbarian
. The BBC. Available from:
http://www.bbc.co.uk/news/magazine-19850234
[Accessed 10 May, 2013].
Mongol Empire (1206 to 1368)
. [Internet]. 2013. Find the Data. Available from: http://empires.findthedata.org/l/2/Mongol-Empire [Accessed 10 May, 2013].
Newman, J. 1989.
Bushido – The Way of the Warrior
. New York. Gallery Books.
Renius, A. [Internet]. 2009.
The Mongols, the Samurai and the Divine Wind
. Socyberty. Available from: http://socyberty.com/history/the-mongols-the-samurai-and-the-divine-wind [Accessed 10 May, 2013].