Talk the Talk
When Joe Louis first became known by America's white press they gave him a series of nicknames, many of which would seem racist to the more enlightened modern eye. They included:
The Mahogany Mauler, The Chocolate Chopper, The Coffee-Colored KO King, The Safari Sandman, and the one that stuck, The Brown Bomber.
Walk the Walk
In a professional career that spanned from 1934 to 1951, Joe Louis fought seventy-one matches with sixty-eight wins, of which fifty-four were by way of knockout with five of them coming in the first round.
The other three fights were defeats, the first against Max Schmeling who Louis demolished in just two minutes, four seconds in a rematch two years later.
His other two defeats came at the end of his career when he was way passed his best and only still fighting in an attempt to ease his growing debts.
Boxing History Facts
Up to the mid-1930s the white press of America had been reluctant to praise the virtues of black boxers, however since the retirement of Jack Dempsey in 1929 there had not been many options for a marketable heavyweight.
The popularity of the sport in general had taken a nosedive due to a shortage of top fighters along with a growing reputation for fight fixing, illegal gambling and connections with organised crime.
When Joe Louis hit the scene all this changed and his reputation as an honest, hardworking fighter caught the imagination of the American press and public, a sentiment summed up by New York Times Columnist Edward Van Ness when he wrote:
"Louis….is a boon to boxing. Just as Dempsey led the sport out of the doldrums….so is Louis leading the boxing game out of a slump."
Boxing Quote
''He gave inspiration to downtrodden and despised people.
When Joe Louis fought, blacks in ghettos across the land were indoors glued to their radios and when Louis won, as he nearly always did, they hit the streets whooping and hollering in celebration.
For Joe's victory was their victory, a means of striking back at an oppressive and hateful environment.
Louis was the black Atlas on whose broad shoulders blacks were lifted, for in those days there were few authentic black heroes.''
~ Chester Higgins - Ebony magazine ~
Joe Louis - The First Black Hero for White America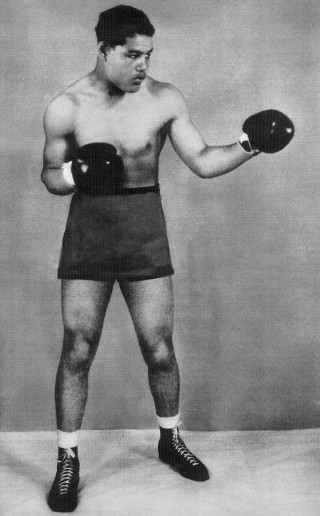 For many experts in
the field of boxing
, Joe Louis (aka The Brown Bomber) was the best world heavyweight champion of all time. He held the title for almost twelve years from 1937 to 1949, defending it against the best opponents the boxing world had to offer.
He would dispatch most opponents early in the fight with only three of his title defences going the full fifteen rounds.
Rise to the Top
Born Joseph Louis Barrow on May 13, 1914 near Lafayette, Alabama, Louis had a tough childhood and would receive little in the way of an education. As a teenager, he moved with his family to Detroit and soon after became involved with a local boxing gym.
His first amateur fight was at light-heavyweight in 1932 at the age of 17 but it did not go well, losing on points after three rounds in which he got knocked down three times. Undeterred, he learned from his mistakes and kept going and in 1934 won the American boxing National Amateur Athletic Union light-heavyweight title; he ended his amateur career at this point with a record that included fifty wins, forty-three of which were by way of knockout and just four losses.
In the same year, he made his professional debut beating Jack Kracken with a first round knockout and then went on to have eleven more fights in 1934 and fourteen in 1935. By this time his power, skill and ability to quickly dispatch his opponents had attracted the attention of promoter Mike Jacobs who would put Louis on the big stage in New York City.
Becoming an American Hero The Brown Bomber was soon thrust into the spotlight when on June 25, 1935 he beat former world heavyweight champion Primo Carnera with a sixth-round knockout. After this he became a hero to many, especially in the African American community as Italian national Carnera symbolised Benito Mussolini fascist regime that was at the time involved in an invasion of Ethiopia.
On September 24 of the same year, he took just four rounds to KO Max Baer who had lost the heavyweight title a few months earlier to James J. Braddock leaving few pundits with any doubt about the young fighter's title credentials. Two years later Louis got his chance to become heavyweight champion of the world and after initially being knocked down in the first round, he emerged victorious after knocking out Braddock in the eighth.
With his win, he became only the second black fighter to hold the title. However while the first,
Jack Johnson
, was hated by white America, Louis would win the hearts of the whole country and be seen as a national hero. Unlike the brash, outspoken Johnson, Louis was a softly spoken, mild mannered man which would have made it easier for the American public, both black and white, to take to him.
From the start of his professional career his handlers had coached him on how to behave when in the public eye in order for him to be able to get a shot at the title. Their instructions included that he was never to be photographed with a white woman and that he should limit celebrations in the ring after a win, especially against a white opponent.
However, his popularity with white Americans really took hold in the run up to the Max Schmeling fight of 1938. Schmeling had handed Louis his first professional defeat two years earlier, knocking him out in the twelfth round but in the rematch, it took the American boxer just over two minutes to KO his German opponent.
To the American public, this was more than just a boxing match. Though he was never a member of the Nazi Party, Adolf Hitler had hailed Schmeling as an example of the superiority of the Germanic race and with growing tensions between America and Germany, the fight was seen by many as being a symbolic battle between democracy and fascism.
The War Years
The persona of Joe Louis, the American hero was further enhanced in 1942 when he joined the army. Though he saw no combat during his time as a soldier, he travelled thousands of miles staging nearly one hundred exhibition bouts to help raise money for the war effort and to entertain his fellow troops, over two million in total got to see the world champion ply his trade.
At the time, many African Americans questioned their role in the conflict suggesting they should be treated as equals at home before being asked to fight abroad. Louis was seen as the ideal symbol to keep them supporting the war, so much so that he was used in
recruitment and propaganda campaigns
by the military to help get conscriptions from the black community.
By joining the army, he gave up four years worth of prize money that would have equated to hundreds of thousands of dollars in exchange for a military pay of just $21 a month. When asked in an interview why he would work for nothing he stated,
"Well I'm not working for nothing, I'm working for my country and I think that's about the greatest piece of work that anybody can do".
The American army at the time was segregated and black troops were often treated unfairly, a situation that did not go unnoticed by Louis. While he usually kept his political views to himself, during his time in the army he spoke up for the rights of black solders and worked to give them more equality when he could, including:
When entertaining the troops, some bases wanted to admit only white servicemen to watch him, but Louis would insist on being allowed to entertain all troops.

When he met black soldiers, they would often complain to him about racist conditions at their base so he would use his connections in Washington to improve things for them.

While serving, he met future baseball great Jackie Robinson and was able to use his status to help Robinson and several other black soldiers gain admittance to Officer Candidate School.
Despite his fame and public image as an American hero, Louis was not immune to the racism of the day. One time during the war, he was reportedly travelling on a military bus with middleweight boxing great Sugar Ray Robinson. Both were ordered to the back of the bus but the usually mild-mannered Louis loudly refused and the two great boxers were then able to argue their way out of trouble.
The Fall of a Hero
After the war, the champion defended his title four more times, the last two coming against the future heavyweight champion Jersey Joe Walcott however by this time Louis was clearly past his best. He won the first encounter with Walcott in 1947 with a controversial split decision after being knocked down twice in the first four rounds. In the rematch the following year, Louis was again up against it and was knocked down in the third round before coming back and knocking Walcott out in the eleventh round.
Around this time the Inland Revenue Service came after him claiming he owed around half a million dollars in taxes, a figure that would rise to around $1.25 million before they were done. The government that had hailed Joe Louis as a hero now relentlessly pursued him for the money he owed, taxing his income at 90% leaving him unable to pay the interest let alone the debt.
He officially announced that he was hanging up his gloves on March 1, 1949 however he was forced out of retirement in 1950 because of his increasing debts. He lost to the heavyweight champion Ezzard Charles in his first fight back then followed this by winning seven fights in eight months against lesser opponents, fighting in front of small crowds and for a fraction of the purses he was used to.
In 1951, he would face the up-and-coming American boxer Rocky Marciano in his last ever professional fight. A total mismatch, Marciano won with ease knocking The Brown Bomber out of the ring in the eighth round rendering him unable to continue and ending one of the most celebrated careers in boxing history.
Eventually, after considerable legal and political pressure the IRS would forgive the debt but Louis's financial situation would remain difficult for the rest of his life. He tried his hand at several professions after boxing including a short stint as a wrestler, TV commercials and as a greeter at Caesars Palace in Las Vegas where he would shake hands with people as they entered, and gamble with house money to entice customers to the tables.
From the late 1960s, both his mental and physical health began to deteriorate. He developed an addiction to cocaine, suffered from paranoia, had heart problems, suffered a number of strokes and in 1977 was confined to a wheelchair after surgery to correct an aortic aneurysm. On April 12, 1981 at the age of 66, Joe Louis collapsed a few hours after attending a heavyweight championship fight between Larry Holmes and Trevor Berbick at Caesars Palace and died of a heart attack after arriving at a nearby hospital.
He was buried with full military honours and his funeral was paid in part by his old adversary turned friend Max Schmeling, who also served as a pall bearer.
The Legacy of Joe Louis
Inside the ring, Joe Louis has probably been labelled as the best heavyweight champion of all time more than any other boxer (with the possible exception of
Muhammad Ali
)
, including being ranked number one by the International Boxing Research Organization, and The Ring's list of the 100 Greatest Punchers of All-Time. He fought in more title fights that anybody in boxing history, with twenty-seven championship bouts and to this day holds the record for defending his title more times that anybody else, seeing off twenty-five opponents as the champion.
Outside the ring his legacy is even greater as he did more for race relations in American than most in the pre-civil rights era. He is widely seen as the first African American to be elevated to the status of national hero in the USA after becoming a focal point for anti-fascist sentiment both before and during World War Two. He was able to get white America to support him in the ring, an achievement that opened the door for many other black boxers who followed him, especially in the heavyweight division.
He also played an important role in breaking the colour barrier in golf after he became the first black man to appear in a PGA event in 1952.
While it can be argued that these factors did not greatly affect race relations outside of sport, he did pave the way for more black athletes to follow him in becoming American heroes and role models for people of all ages, genders, social classes and ethnicities.
Further Reading
Joe Louis. [Internet]. 2020. History.com. Available From:
Boxing History Home
An overview of the history of boxing, charting its development down the ages from early forms of pugilism practiced in ancient Greece and Rome, to its revival in the early modern period and the development of boxing in the modern era.....
Read Article
Boxing in the Ancient World
Ancient boxing had many things in common to the sport practiced today, though with fewer rules it was often a far more violent affair. While it did have its detractors, this did nothing to stem the interest in it and contests seem to have been commonplace throughout the period.....
Read Article
Boxing in the 18th Century
Modern pugilism history really began to develop in the 18th century as contests began to be regulated and safety measures started being put in place. However the boxing scene also saw some dark days in this period as diving for a payoff is also believed to have taken root.....
Read Article
Boxing in the 19th Century
A look at the many fighters who are credited with holding the bare knuckle boxing title in the 19th century. From Jem Belcher, who held the distinction at the turn of the century, to Jem Mace, who made the switch to using boxing gloves following the introduction of the Queensbury Rules.....
Read Article
Post-Queensbury Rules Boxing Culture
When the Queensbury Rules were introduced to boxing in 1867, the sport began to become more professional and socially acceptable. However for black boxers, rising to the top became more difficult as the sport became institutionally racist.....
Read Article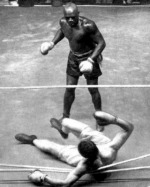 Sam Langford
Sam Langford is one of the greatest boxers never to be crowned World Champion. Boxing in the early half of the 20 century, he was a victim of the 'colour line' and not given his chance because of the colour of his skin despite the fact that the champion at the time, Jack Johnson, was an African American.....
Read Article
Little Known Facts About Muhammad Ali
Muhammad Ali is one of the most written about sportsmen of all time and has led an interesting and varied life both inside and outside the ring. Most are aware of his accomplishments in boxing, but there are some things about
The People's Champion
that can still be surprising to many.....
Read More
The Reign of Don King
Amidst numerous accusations of corruption, Don King has had a major influence on boxing since becoming a promoter in the 1970s. He staged some of the biggest fights in history, increased the prize money earned by fighters and considerably raised public interest in the sport, all in his own charismatic and outspoken style......
Read Article