Talk the Talk
Sam Langford and his contemporaries would often compete in no decision contests.
Also known as newspaper decisions, these exhibition matches would be just as fierce as any other fight with the boxers fighting for pride as well as the purse.
Walk the Walk
A short man at around 5' 7"s, Langford had unusually long reach for his size because of his broad shoulders and was as close to a complete fighter as you can get.
He was a clever boxer who could fight on the inside or on the outside and could be a long, middle or short distance fighter depending on the man in front of him.
What's more, he could brawl with the best of them and even when he moved up through the weights, his punch was devastating and his jaw remained solid.
Boxing Quote
"The hell I feared no man.
There was one man, he was even smaller than I, and I wouldn't fight because I knew he would flatten me.
I was afraid of Sam Langford."

~ Jack Dempsey ~
The Reading Corner
The Birth of the Samurai ~ The Development of a Warrior Elite in Early Japanese Society.
Available on Amazon
Sam Langford – The World Champion That Never Was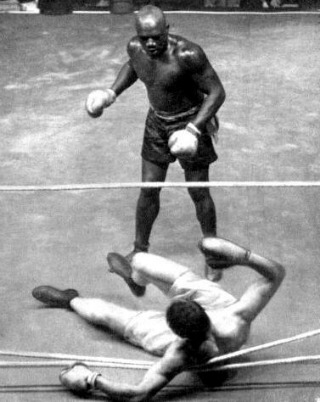 Sam Langford is considered by many
boxing
historians to be one of the best boxers of all time.
He fought many of the top fighters of his era from lightweights to heavyweights winning far more than he lost, despite this he was never given a fair chance at becoming the world champion.
This was at least in part because of the colour of his skin and partly because he was so good even some of the most respected champions of the day feared losing their titles to him.
Born in Weymouth, Nova Scotia, probably on March 4, 1885, he spent much of his career fighting out of Boston earning him the nickname The Boston Terror or more commonly The Boston Tar Baby. Langford's record is a matter of some confusion but it can be said that he had at least 293 fights, winning at least 167, 117 by way of knock out, with 38 defeats and 85 fights that were draws or no decisions.
The Beginning of a Great Career
His first recorded professional fight came in 1902 when he knocked out Jack McVicker in the fifth round of a lightweight contest. Right from the start he was fighting far more experienced men and in 1903 he was already on his twenty-sixth professional contest in which he beat his idol Joe Gans, then the lightweight world champion, in a fifteen-round non-title fight.
While it is true that Gans had fought the day before then spent the evening drinking and travelling, for a fighter in his first year as a professional boxer to beat one of the best of all time in his division is still an amazing achievement.
He soon began to move up in weight and in 1904, he battled it out with another great fighter, world welterweight champion 'Barbados' Joe Walcott (not to be confused with 'Jersey' Joe Walcott, who competed from 1930 to 1953). Sources vary on whether or not this was a shot at the title but either way the two fighters drew after a fifteen-round war that many spectators felt Langford had won.
Sam Langford Vs. Jack Johnson
Two years later at around 20 years old, he was facing the great
Jack Johnson
, who beat the much younger and much lighter man on a points decision after fifteen gruelling rounds. In 1908 Johnson became the first black world heavyweight champion causing upset within the sport and triggering the hunt for the so called
great white hope
.
Many believed a rematch with Langford was on the cards but for Johnson, the money was in fighting white contenders so like many white champions that came before and after him, he 'drew the colour line', freezing out fighters like Langford and refusing to give them a shot at the title.
Promoters and boxing officials would also be against title fights against two black contenders as they wanted a white champion, especially in the heavyweight division for both racial and financial reasons. British boxing writer James "Jimmy" Butler, author of the acclaimed book
Kings of the Ring
met Langford while he was in the UK who told him that the then heavyweight champ Jack Johnson wouldn't give him a rematch. Butler wrote:
That, as a matter of fact, was the plain and unvarnished truth. Johnson did dodge a meeting with the Boston Tar Baby after their terrific clash at Chelsea, Massachusetts……Johnson just scraped home on points after fifteen rounds, but I think he learned enough to realise that if he ever got into the same ring with Langford again, those gigantic arms and shoulders would make short work of sweeping him off his throne.
It is true that Johnson dodged a rematch, when promoter Hugh "Huge Deal"' McIntosh tried to set the fight up, Johnson told him; "I don't want to fight that little smoke……he's got a chance to win against anyone in the world. I'm the first black champion and I'm
going to be the last
."
However, their 1906 fight probably wasn't as close as many claimed and later reports that Langford had put Johnson on the canvas where probably untrue. Langford's long-time manager Joe Woodman, when asked directly years later if his fighter decked Johnson is reported to have replied:
You've got me….Langford never dropped Johnson. But I was anxious to fix up another fight between the two and, knowing Jack's pride, I invented the story of that knockdown to goad him into the ring against Sam again….Although it never happened, all the newspapermen believed it. They just never took the trouble to investigate. That knockdown was just a publicity gimmick.
Blind Fury
Despite being denied a shot at the title Langford fought on, repeatedly fighting other black fighters who were also victims of the colour line; he fought Joe Jeannette 13 times, Sam McVey 13 times and Harry Wills 18 times. When he came up against white opponents, he often had to take it easy and allow them to last a few rounds so as not to insight the crowd and to ensure the promoters would allow him future fights.
Many of the fighters he faced were much larger and he often gave away 40 pounds or more but his sheer punching power, ability to take a hit and his canny boxing brain allowed him to compete with men much heavier and usually taller than him. This suited Langford as there was usually more money to be made in the heavyweight division however eventually the punishment he received from fighting on average more than ten times a year took its toll.
An eye injury sustained in a 1917 bout against Fred Fulton led to him losing much of the sight in his left eye. His manager Joe Woodman tried in vain to get Langford to quit after this and when he could not persuade him, he dissolved their partnership. Woodman later recalled:
Sam got badly busted up around the eyes in that bout, and I was afraid he'd go blind if he kept fighting. I told Sam he'd better quit, but he was stubborn. He insisted he'd keep going. I said it was dangerous for him, that he'd probably lose his eyesight and I didn't want to be held responsible. I argued and pleaded but it did no good. So we parted. I was right. Sam did keep fighting and eventually became blind. It was too bad. He was a great fighter and one of the finest chaps, personally, I've ever had anything to do with.
After parting ways with Woodman, Langford continued his career with impaired vision in one eye, still out boxing and out punching most who stood before him. In 1922, he beat future middleweight champion Tiger Flowers in the second round but sustained an injury to his good eye that left him all but blind.
With failing sight, the aging fighter still strove for a shot at the title and went to Doc Kearns, manager of world heavyweight champion Jack Dempsey to ask for a fight. Perhaps summing up the story of Langford's career, Kearns denied him the chance, telling him; "Sam, we were looking for somebody easier".
Despite increasingly serious visual impairment, he still fought on and in 1923 became the heavyweight champion of Mexico. He later stated:
I went down to Mexico….with this here left eye completely gone and the right eye just seeing shadows. It was a cataract. They matched me up with Kid Savage for the title. I was bluffing through that I could see but I gave myself away. They bet awful heavy on the kid when the word got round. I just felt my way around and then, wham, I got home. He forgot to duck and I was the heavyweight champion of Mexico.
Life after Boxing
After walking to the wrong corner in a fight in 1926, Langford could no longer conceal his sight problems and had his license revoked, forcing him into retirement probably at the age of 41. Soon after, the great boxer disappeared into obscurity until Al Laney of the New York Herald Tribune tracked him down in 1944, finding him living in a small room in Harlem, all alone, penniless and now completely blind.
Laney interviewed the former boxer and after publishing an article about him, set up a fund for him with a hat regularly being passed around on Langford's behalf at local fights. For the rest of his days, he lived a relatively comfortable life, passing away on January 12, 1956 aged around 70.
Ten weeks before he passed, Sam Langford was entered into the Boxing Hall of Fame, at the time he was the only non-world titleholder to be given the honour. Soon after he stated:
Don't nobody need to feel sorry for old Sam. I had plenty of good times. I been all over the world. I fought maybe 600 fights, and every one was a pleasure!
Further Reading
Travis Fleming. [Internet]. 2015.
Was Sam Langford the Greatest Fighter in the History of Boxing?
. Ring Side Report. Available from:
http://ringsidereport.com/?p=51501
[Accessed May 12, 2018].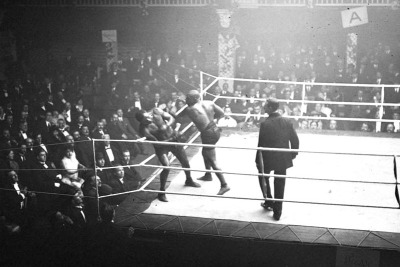 Boxing History Home
An overview of the history of boxing, charting its development down the ages from early forms of pugilism practiced in ancient Greece and Rome, to its revival in the early modern period and the development of boxing in the modern era.....
Read Article
Boxing in the Ancient World
Ancient boxing had many things in common to the sport practiced today, though with fewer rules it was often a far more violent affair. While it did have its detractors, this did nothing to stem the interest in it and contests seem to have been commonplace throughout the period.....
Read Article
Boxing in the 18th Century
Modern pugilism history really began to develop in the 18th century as contests began to be regulated and safety measures started being put in place. However the boxing scene also saw some dark days in this period as diving for a payoff is also believed to have taken root.....
Read Article
Boxing in the 19th Century
A look at the many fighters who are credited with holding the bare knuckle boxing title in the 19th century. From Jem Belcher, who held the distinction at the turn of the century, to Jem Mace, who made the switch to using boxing gloves following the introduction of the Queensbury Rules.....
Read Article
Post-Queensbury Rules Boxing Culture
When the Queensbury Rules were introduced to boxing in 1867, the sport began to become more professional and socially acceptable. However for black boxers, rising to the top became more difficult as the sport became institutionally racist.....
Read Article
Joe Louis
Joe Louis (aka
The Brown Bomber
) was an American boxer and widely considered to be one of the greatest world heavyweight champions of all time. He reigned from 1937 to 1949 and became an American hero when he defeated the German Max Schmeling and later through his work promoting the war effort. However, later in his career he would face massive debts due to unfair treatment by the taxman.....
Read More
Little Known Facts About Muhammad Ali
Muhammad Ali is one of the most written about sportsmen of all time and has led an interesting and varied life both inside and outside the ring. Most are aware of his accomplishments in boxing, but there are some things about
The People's Champion
that can still be surprising to many.....
Read More
The Reign of Don King
Amidst numerous accusations of corruption, Don King has had a major influence on boxing since becoming a promoter in the 1970s. He staged some of the biggest fights in history, increased the prize money earned by fighters and considerably raised public interest in the sport, all in his own charismatic and outspoken style......
Read Article