Muhammad Ali Negotiated the Release of American Hostages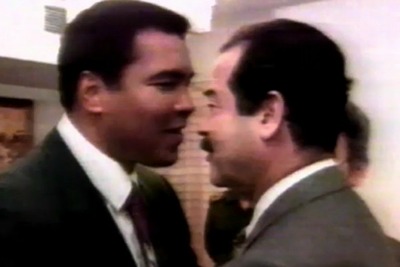 Following Iraq's invasion of Kuwait in 1990, Saddam Hussein devised a plot to stave off American attacks by strategically placing foreign hostages (or 'guests' as he called them) in key locations. As one of the most famous and admired Muslims in the world, it was decided that Muhammad Ali would be an ideal ambassador to go over and negotiate the release of the fifteen Americans being used as 'human shields'.
Ali was six years into his fight with Parkinson's disease by this time and came under fire from certain sections of the press who accused him of only being interested in boosting his own profile. Undeterred, he met with Saddam Hussein and successfully negotiated with the dictator; Ali left Iraq on December 2, 1990 along with the fifteen men, all the while insisting that they do not thank him but instead give credit to Allah.
Mike Tyson Avenged Ali's Loss to Larry Holmes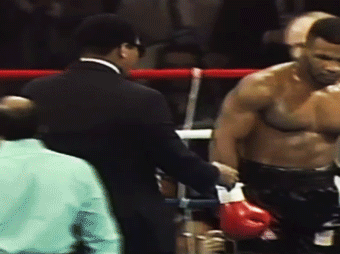 When Ali lost his final fight to Larry Holmes in 1980, a young Mike Tyson was watching on TV with his trainer, Cus D'Amato. Tyson stated;
"I was offended by how bad he beat up Ali……we were all so upset. The next morning, Cus was on the phone with Muhammad Ali after taking this shellacking from Holmes. He said to Ali, 'I have this young black kid who is going to be heavyweight champion someday and I want you to talk to him.'"




When he got on the phone, the 14 year old future champ told his idol, "When I grow up, I'll fight Holmes and I'll get him back for you," a promise that Tyson duly kept.
Seven years later Tyson, by this time the undisputed heavyweight champion, met Holmes in the ring. Ali was a guest at the fight and when he entered the ring before the first bell to shake the fighter's hands, he whispered to Tyson, "Remember what you said – get him for me." Holmes was demolished in the fight that ensued and was knocked out in the fourth round after a vicious array of right hooks.
The Muhammad Ali vs Rocky Marciano Super Fight


During the time Ali was serving his ban from boxing for refusing to fight in Vietnam in the late 1960s, a radio show was 'deciding' who the greatest heavyweight boxer of all time was. Fights were acted out on the show, with the results being decided by a second-generation NCR 315 computer, packed with 5k of handmade core memory.
It was predicted that Ali would lose in the quarter final stage to Jim Jeffries which left him furious. He declared that the government had taken his title and now the man responsible for the simulated fights, Murry Woroner, was trying to take his good name by suggesting he would lose to a man he described as "history's clumsiest, most slow-footed heavyweight."
The former champ threatened to sue for defamation with a $1 million law suit. However an agreement was made by the two parties when he was offered nearly $10,000 to fight Rocky Marciano in a demonstration fight that would be aired in cinemas all over the country, with the result decided by the computer.
The 'fight' was filmed in 1969 with the two throwing light punches for 70, one minute rounds with several endings filmed so the result would not leak before the battle was aired. When it did, it played out much like the Sylvester Stallone movies of the 1980s and 90s about Marciano's namesake. Rocky was covered in blood, knocked down a number of times and behind on points before coming back strong and winning by KO in the thirteenth round.
Later, Ali stated that it was all a sham and no computer was involved in the outcome of the heavyweight 'super fight'. This is probably true as according to Marciano's brother, Peter, the two had talked about the fight before it was aired and Rocky had predicted the outcome to the letter.
Ali Fought Japanese Wrestler Antonio Inoki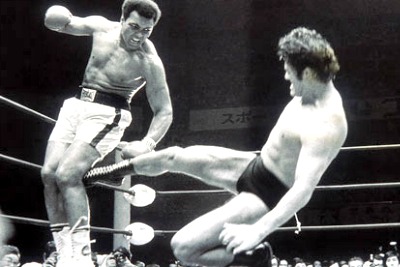 In what has been described as an early mixed martial arts contest, Muhammad Ali once fought a famous Japanese professional wrestler named Antonio Inoki. The 1976 fight was billed as a battle to find the 'toughest man on earth' though it was a farce from the very beginning.
The Ali camp believed it would be just an exhibition match but when they saw Inoki training hard just before the fight took place, they realised he was taking it very seriously. They threatened to pull out unless several rule changes were made, including no punching for the bare fisted wrestler and that he can only kick when he was on the ground.
This left Inoki with very few options once the bout began so he spent most of the fight on the canvas trying to kick his opponent. In response, Ali stayed out of range for the most part, taunting his opponent but to no avail. He threw just six punches for the entire fifteen round fight, which ended in a draw and with the enraged crowd throwing trash into the ring and chanting; 'money back, money back'.
Muhammad Ali Talked a Veteran out of Committing Suicide


In 1981, Ali happened to be near the scene of situation that was worsening by the minute. A Vietnam veteran was on a ninth floor ledge of a building threatening to jump, shouting; "I'm no good, I'm going to jump, the Viet Cong are coming at me!" After police, a psychologist and a minister had all failed to talk the man down, the former champ volunteered to help.
He made his way to a nearby window and told the man; "I'm your brother, I want to help you." Soon, the man allowed Ali to approach and after a tense twenty minutes, the man came off the ledge and was taken for psychiatric evaluation with Ali promising to visit him later that week.
Further Reading
Bull, A. [Internet]. 2009.
The forgotten story of ... Muhammad Ali v Antonio Inoki
. The Guardian. Available from:
http://www.theguardian.com/sport/blog/2009/nov/11/the-forgotten-story-of-ali-inoki
[Accessed July 2, 2014].
Drinkwater, G. [Video]. 1981.
Muhammad Ali Saves Man from Suicide Jump
. CBS News. Available from: https://www.youtube.com/watch?v=SV75aFzC1aQ [Accessed July 2, 2014].
Howard, G. A. [Internet]. 2012.
Ali – The Boxer.
The Official Site of Muhammad Ali. Available from: http://www.ali.com/legend_boxer_main.php [Accessed June 4, 2014].
Ingle, S. [Internet]. 2013.
The forgotten story of … the Rocky Marciano v Muhammad Ali Super Fight.
The Guardian. Available from:
http://www.theguardian.com/sport/blog/2012/nov/13/forgotten-story-rocky-marciano-muhammad-ali
[Accessed July 2, 2014].
Martin, A. [Video]. 2013.
Ali: The Mission.
ESPN. Available from:
https://www.youtube.com/watch?v=PMNwCZ-ZHmE
[Accessed July 2, 2014].
Rafael, D. [Internet]. 2011.
Mike Tyson Reflects on his HOF Career.
ESPN. Available from:
http://espn.go.com/blog/dan-rafael/post/_/id/53/mike-tyson-reflects-hof-career-boxing
[Accessed July 2, 2014].