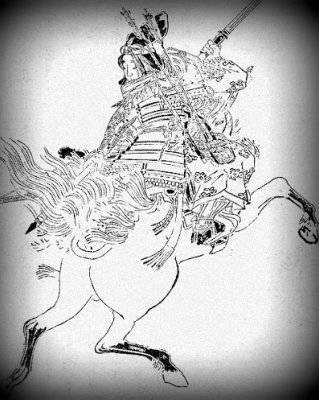 Tomoe Gozen appears in Japanese samurai chronicles from the latter half of the twelfth century and probably lived from around 1157 to around 1247.
While there is much variation on the stories concerning her, the texts are clear that Tomoe was one of the best martial arts practitioners of her day and was famed as a warrior of formidable skill.
Tomoe's Battles
As one of the few female samurai legends, Tomoe has earned her place in martial arts history however how much of the accounts of her are actually true is impossible to tell. It is certainly plausible at least that Tomoe did learn martial arts and had a unique opportunity to use her skills. She is famed for going into battle alongside the samurai warrior Minamoto Yoshinaka, who she served with absolute loyalty; according to some sources she was also his mistress or even his wife.
They fought together in the Gempei War (1180 – 1185), which she is believed to have survived, unlike her master Yoshinaka. In one battle, she is reported to have single handily defended a bridge against dozens of attackers. In another, she is said to have killed many samurai warriors one after another in single combat and then killed their leader, Uchida Iyeyoshi. Attempting to drag her from her horse, Uchida infuriated Tomoe who promptly decapitated him and delivered his head as a trophy to Yoshinaka.
Her most famous story is from the Battle of Awazu (1184) where Yoshinaka was finally defeated by his enemies. When the battle was lost, Yoshinaka told Tomoe he will fight to the death but she should leave the battle field as he would be shamed to die fighting with a woman; after killing another opposing samurai warrior, she complied and escaped.
After the Fighting
Tomoe Gozen is unique as she is the only female warrior who is described in detail in the ancient Japanese samurai war tales. The
Heike Monogatari
does not mention her again after she leaves the Battle of Awazu but according to another source, the
Gempei Seisuki
, she had been ordered by Yoshinaka to go to his home province and tell the story of his final battle in a bid to make his exploits a become a part of samurai legend.
However as she left the field, she was attacked by an enemy soldier named Wada Yoshimori. He appeared to have lost his samurai sword as he used a pine trunk as a club to attack her. She twisted and broke it but was over powered and forced to become Wada's concubine.
She had a son with him who, it is said, was killed in 1213 when the Hojo family destroyed the Wada family. After this, Tomoe is said to have become a nun and lived to the age of ninety-one.
Other sources end the story of one of the most formidable female warriors in the history of the martial arts differently; some say she killed many enemies before leaving the Battle of Awazu, then retired to a temple and took holy orders. Others have it that after leaving the battlefield she committed seppuku, a form of self-disembowelment a warrior would inflict with his (or her) own samurai sword to avoid the disgrace of capture.
Others still say that she retrieved Yoshinaka's head from the battle field and walked with it out into the sea, bringing about her own death so as to continue to serve her master in the afterlife.
What really happened to Tomoe Gozen both before and after the battle of Awazu will probably never be known for sure but it is probable that she not only existed, but played some part in the Gempei War. This makes her a rarity in the history of fighting, as a woman making a difference in the traditionally male world of martial arts and warrior history.
Further Reading
Bryant,A.J. 1991.
Early Samurai: 200 – 1500 AD.
Via Google Books. Available from: http://books.google.co.uk/books?id=FxTNBAAJaqEC&printsec=frontcover&dq=Early+samurai&hl=en [Accessed November 27, 2012].
Henshall, K. 2004. Second Edition.
A History of Japan – From Stone Age to Super Power
. Hampshire. MacMillan Press.
Jones, D. E. Second Edition. 2005.
Women Warriors – A History.
Brassey's Inc. USA
.The Samurai of the Heian Period (794 – 1185)
. [Internet]. 2009. Socyberty.com. Available from http://socyberty.com/military/the-samurai-of-the-heian-period-794-1185/ [Accessed November 28, 2012]
Turnbull, S. 2008
. The Samurai Swordsman – Master of War.
Tuttle Publishing. UK.